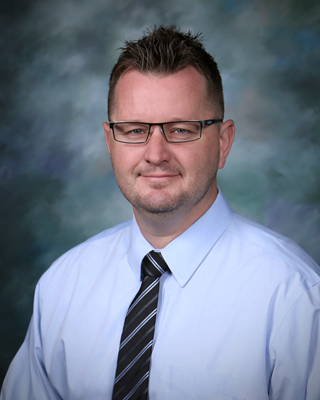 Chad Mabery, Ed.D.
Director of Data, Assessment, and Professional Development
310-318-7345, x5980
cmabery@mbusd.org
Chad was a teacher leader at MBMS where he served as an excellent math teacher and director of the after school activities program (ASAP). Chad taught a variety of math classes and levels, but we were truly impressed with his dedication to the students who find math challenging. He worked diligently to find ways to reach these students and to help them achieve mastery of math concepts. As the director of the after school activities program (clubs and sports), Chad more than doubled student participation within the first two years.
In 2005 Chad left MBUSD to work in the mortgage industry. While he experienced early monetary success, he quickly realized how much he missed the classroom. This experience reignited his passion for teaching, so Chad returned to the classroom in Torrance Unified to teach AP Calculus, Algebra, and Integrated Science at North High School. During this same time period, Chad earned his administrative credential at CSU Dominguez Hills. He was hired as Vice Principal of South High School in 2007 and served in that capacity until 2011. In 2011, Chad became Principal of Richardson Middle School in Torrance. Last year he was honored by the Association of California School Administrators (ACSA) as Secondary Principal of the Year for Region 14.
Chad earned his Ed.D. from UCLA in 2012 and wrote his quantitative dissertation on the topic, "Moving Beyond Test Scores: A Study on How to Improve High Performing Non-Title I High Schools." As part of his dissertation research, Chad collected and analyzed over 100,000 data fields to determine the correlation among student achievement, demographics, and school climate at high socioeconomic status schools. Torrance later utilized Chad's love of data analysis by asking him to collect and analyze college completion rate data for Torrance USD high schools. Chad's work in this area was used to develop a districtwide, Board-approved College Plan for TUSD. Chad also created the first and only TUSD blended online middle school classes in 2012. He has presented several professional development sessions within and outside of Torrance USD, including "School, Class, and Student Data Analysis," "SMART Goals," and "Common Formative Assessments," to name a few.
In addition to being involved in ACSA, Chad is the Vice President of the Torrance Education Foundation. We are fortunate to have hired such a strong educational leader for this new position. Chad Mabery is a difference maker, and he will move us forward in our use of a variety of types of data and assessments. Additionally, he is committed to providing professional development that will help teachers understand and interpret data and student work and develop meaningful formative and summative assessments.